About Mila Design, Inc.
International award winning Chief Designer
We are a team of the best Chicagoland floral designers
We've been in the custom floral business since 1985
Mila Design was established in 1985.
Mila Design is a favorite of the Chicago Fashion world. Our team consults on all facets of event design; breathtaking table centerpieces, romantic wedding ceremonies, luxurious linens and unique props for weddings, family and social events, bat mitzvahs and bar mitzvahs. We work closely with each client to create an affair that is personally tailored.
Our Services
For your wedding, party, bat mitzvah or bar mitzvah we offer an initial two hour complimentary consultation.
Floral Design
As a custom floral designer, we do not have a price list or generic package pricing. Everything we design and build for you is unique and one-of-a-kind. As with any designer, prices will vary depending on the type of flowers and materials selected plus the number and size of the arrangements. Each of these choices will increase or decrease the overall cost as determined by your personal tastes and needs. We pride ourselves in working within every client's budget to attain the most elegant floral presentation.
We invite you to make an appointment so we can become better acquainted. It will allow you the opportunity to share with us your tastes, ideas, passions, interests, or whatever is important in helping us create a customized design plan for your special event. At that time you can also view our portfolios to help us understand the individual floral detail you prefer. Following our initial consultation we will provide you a detailed written proposal. If you choose to engage our services, we will meet with you as necessary to finalize every detail and assure the floral presentations you select will elegantly complement your celebration.
Rentals
Rentals: chuppahs, arches, wedding backdrops, candelabras, chandeliers, unique vases, art pieces, everlasting candles, floor and table runners, stage decorations, columns, lighting, special light effects.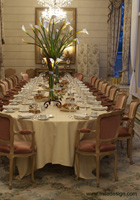 NEW! Rental calla lily table center piece
Church decorations
Creating altars and chuppahs for ceremonies at hotel facilities
Personal flowers (bouquets, boutonnières, and corsages, flower hair pieces), coordinated with bridal party apparel
Wedding Reception room customized lighting, draping and floral designs
Rental props for bar & bat mitzvah
Deliveries to Chicago and suburban locations
Installation, resets, pick up props
Weekly home and office fresh flower decoration
Christmas decorations for homes and offices